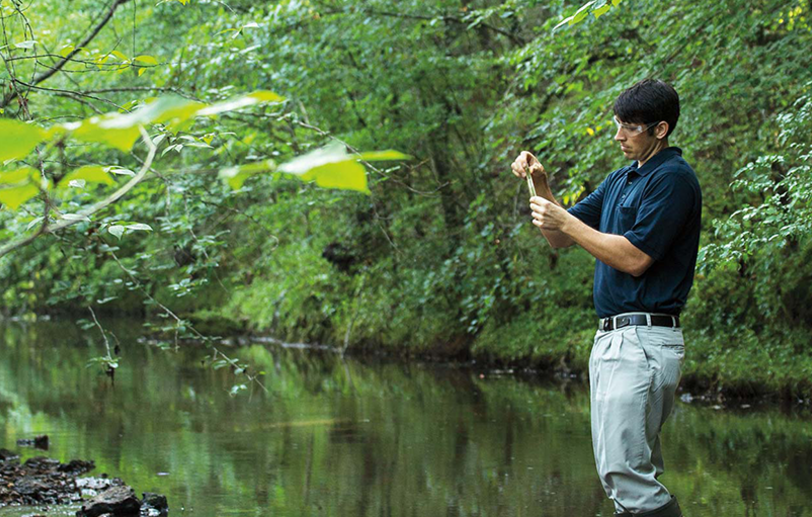 Our employees are engaged in environmental stewardship at work and in the community.
Le système complet de gestion environnementale de Benjamin Moore s'étend sur tout le cycle de vie d'innovation, de développement, de production et de recyclage des produits. Nous gérons la consommation d'énergie et d'eau, les émissions atmosphériques et la production de déchets, tout cela dans le but d'exploiter nos installations de la façon la plus éco-responsable possible. Nous protégeons également les espèces et les habitats qui constituent nos sites.
Compliance
Our activities in manufacturing and distributing paints and coatings are subject to various environmental, health, safety and transportation (hazardous materials) regulations. Benjamin Moore reports significant violations of these regulations – those resulting in fines of $5,000 or more and/or in an impact to the environment. In 2016, we had no significant regulatory violations.
The U.S. Environmental Protection Agency (EPA) requires certain industries to report annual releases to the environment of listed chemicals (referred to as Toxic Release Inventory. or TRI, Emissions). The releases are reported as emissions to air or water, or off-site transfers through recycling, energy recovery, treatment or disposal. For 2016, Benjamin Moore reported 77 tons of total TRI releases from five manufacturing plants, a 14.6 percent reduction from our 2015 TRI releases. All emissions and off-site transfers were in conformance with federal, state and local regulations.
Waste management
Our employees are constantly looking for ways to reduce waste at the source and increase reuse and recycling. In recognition of its outstanding recycling program, our Clifton Distribution Center earned the 2016 Outstanding Achievement in Recycling by a Business award from the New Jersey Department of Environmental Protection.

Benjamin Moore is a contributing board member of PaintCare in the U.S. and Product Care in Canada, nonprofit organizations that manage industry-wide programs to collect leftover paint for reuse, recycling or safe disposal. Our shared goal is to expand these programs so that all post-consumer paint is handled effectively and responsibly.
Energy management
Benjamin Moore uses electricity for lighting, operations and processing; natural gas for heating; and diesel for our fleet of trucks. Moving towards greater energy efficiency and seeking alternative energy options makes good business sense and helps us reduce greenhouse gas emissions. In 2016, the Orlando Distribution Center updated lighting and cut their energy bill by 40 percent.
Sustainable transportation
Benjamin Moore has 125 branded trucks in our delivery fleet. We are optimizing loads, streamlining routes and equipping all new trailers with aerodynamic features and idle restrictors. These efforts translate into better fuel efficiency, reduced costs and fewer greenhouse gas emissions. Since 2009, we have saved $2.9 million and more than 929,250 gallons of fuel. That's more than 9,605 metric tons of carbon dioxide avoided, equivalent to the emissions from 2,029 passenger vehicles driven for one year.
Biodiversity
Our employees care about the wildlife that call our sites home. Our R&D center in New Jersey and our manufacturing facility and distribution center in Alabama have earned Conservation Certification from the Wildlife Habitat Council (WHC), a nonprofit group dedicated to restoring and enhancing wildlife habitat.

Our Alabama site has maintained its WHC certification since 2005 and our R&D facility was re-certified to the Silver level in 2016. The wildlife teams at these locations manage a total of 67 acres by providing habitat for native birds and pollinators and removing invasive species.