How to choose a bedroom color, ideas and inspiration
Inspiration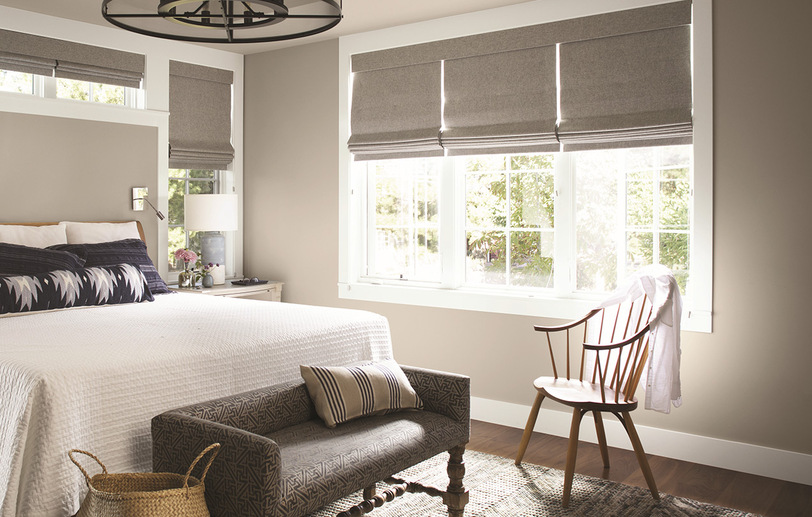 A color is often enough to give a new look to a bedroom.
Add a beautiful paint coat to your bedroom and give it a new face. To make it become your cosy nest, choose colors which latches your personality. Our Benjamin Moore Natura paint are available in a great range of tints. Your rest quietly, this paint was designed to diffuse no component in ambient air. It is perfect for kids, or persons who have asthma or allergies.
Colors made for bedrooms
To give a soft ambiance, many people choose cold colors, pale blues or greens. In this video, the delicate hue Instinct AF-575 and the freshness Anjou Pear AF-425 fit perfectly in this search for calm and comfort. Moreover, these two colors go along very well with the 144 others tones of the Affinity collection, which they come from. This collection is a good source of inspiration to find a harmony for your bedroom.
If you want to create a real safe haven, we offer au large selection of neutrals and whites. The well-known Chantilly Lace OC-65 and Silver Fox 2108-50 give to this bedroom a simple but refined ambiance. Fresh and soft, Mellow Pink creates an oasis of tranquility with touches of pale grey and pure white cloths. If you are more into a cosy atmosphere, opt for the dark blue of Mysterious AF-565.
One color, one ambiance
You probably already know it, but a color can drastically change the look of a bedroom, and the ambiance within it. Do you need to energize your room, to wake up more easily ? Or you need to create a real cocoon to relax ? Before choosing the color you will see when your eyes close and open, take good note of these simple advice : warm colors gives energy, whereas the colder hues soften the atmosphere. A saturated tone will strengthen the "cosy" aspect, and a paler one will add lightness.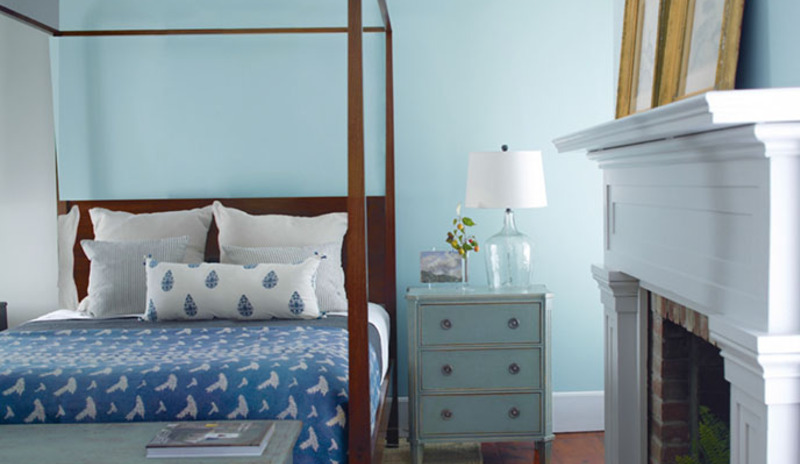 A choice you cannot regret
To choose the future color of your bedroom, you can take inspiration from your bedding and curtains of the room. You cannot make your choice among the abundant number of colors ? Select a tone from a cloth you like, and use it to decorate your walls.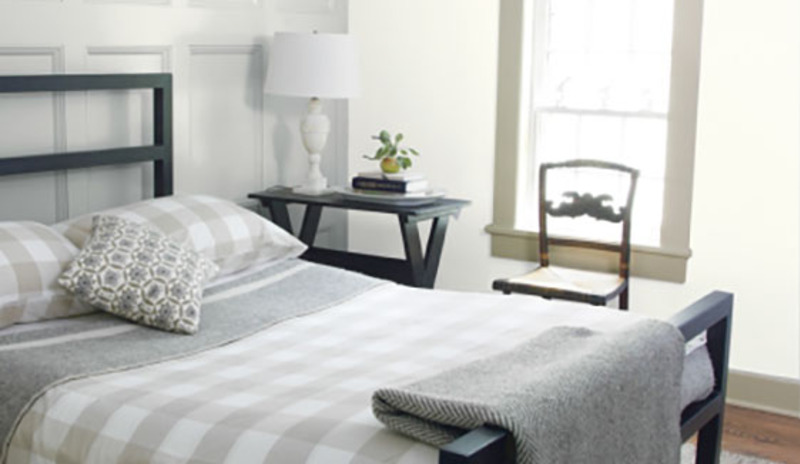 A little peace and quiet
You would like to create a relaxing atmosphere ? Simply prefer a neutral tone. And this does not mean choosing monotony. Off whites, pale grays and warm dark hues can be used to make something else stand out, like furniture or any other colorful object. If you love changing your decoration often, it is the ideal solution.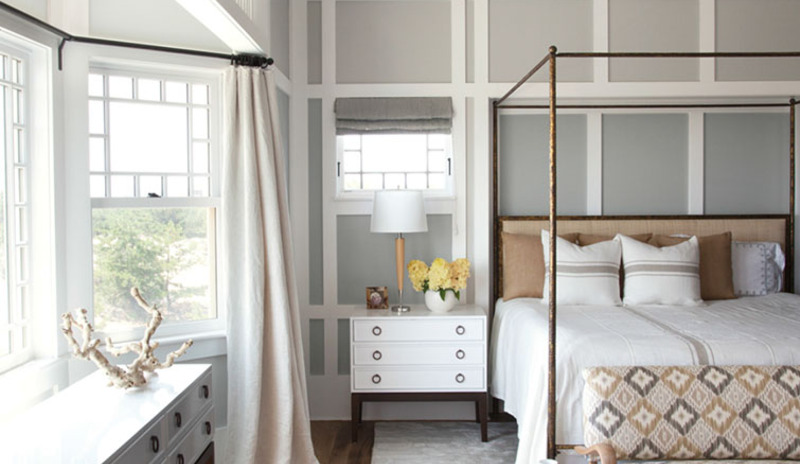 The fifth wall
In terms of paint, the ceiling is too often neglected. If the standard white stays an eternal classic, it is a detail to operate if you wish to enhance the personality of a bedroom. Express your creativity by choosing a color out of the ordinary, like with the color Concord Ivory HC-12 for example.
A lighter tone will help create an impression of height and lightness. A narrow bedroom or a room with a low ceiling will now appear more spacious. A very simple tip is to apply a lighter tone than the walls, or a variant.
Find THE color for your bedroom
It is the room which welcomes you when you need to rest, decorate it with the best colors and it will give it back to you.